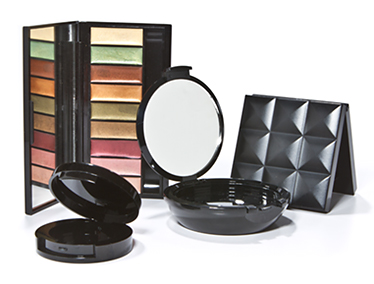 Compacts
A compact can have any personality you wish. Its shape and texture help define the product inside. Understanding your product and your consumer is key to designing the ultimate compelling compact.
Search our extensive collection of Compacts
Options to Consider
Compact Deco – hot stamp, silkscreen, in-mold labeling, pressure sensitive label, anodizing, pad print, water transfer, heat transfer, spray, soft touch
Other Options – in mold embossing or debossing, bi-injection, pearlized colorants, decorative stones and plaques; silkscreen on the mirror!
Hinge Options - snap closure, push button, living hinge, magnetic